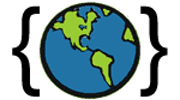 Today, if you are looking for free geospatial data, there are many available options. You don't even have to look too far. Just go to the OpenStreetMap or get the Natural Earth data.
However, all that data comes in some form of a spatial database, and most likely as shape files. For most of the web developers not used to working with the GIS data, this can be a significant obstacle. Seasoned GIS developers would use some GIS tools, most likely OGR, to transform and adapt the spatial data. Web developers don't have time or an actual need to learn these specialized tools.
Fortunately, nowadays, developers converted many of these traditional GIS tools, which are mostly command-line tools, to work inside browsers. However, it is important to stress that despite the fact the tools are available to anyone with just the Internet connection and a browser, these tools require some basic geospatial knowledge to use those properly and get quality results.
Although, it wouldn't be ideal for most web developers to have all that geospatial data available, not as the database files, but rather in a format that is closer to web standards, such as JSON?
Read on ...